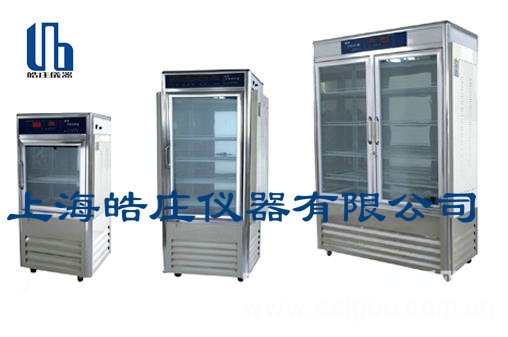 Shanghai Haozhuang Instrument Co., Ltd. has developed the LNB brand mold incubator, which is energy-saving and environmentally friendly, leading the country. Professional manufacturing is more secure and affordable. The mold incubator is a test equipment suitable for culturing mold and other eukaryotic microorganisms. Because most molds are suitable for growth at room temperature (25 degrees Celsius), and a certain humidity needs to be maintained when cultivating on a solid substrate, the general mold incubator is cooled The system, the heating system, the air humidifier and the cultivation room, the control circuit and the operation panel are composed of parts, and the temperature sensor and the humidity sensor are used to maintain the stability of the temperature and humidity in the cultivation room. Some special mold incubators can also set the temperature and humidity to change with the cultivation time.
Scope of application This product is suitable for environmental protection, health and epidemic prevention, agricultural and livestock, drug inspection, aquatic products and other scientific research, college experiments and production departments. It is a special constant temperature and constant temperature oscillating equipment for water body analysis and BOD determination of bacteria, mold, microorganism cultivation, storage, plant cultivation, breeding experiments.
Control feature 1 has the parameter memory protected by power failure and data loss due to crash, and the function of call recovery. 2 Adopting the first streamlined arc design in China, the shell is made of cold-rolled steel plate, the surface is electrostatically sprayed, and the working cavity is made of mirror stainless steel; 3 microcomputer intelligent control, LCD display controls temperature, time, and overtemperature alarm function; 4 Use baking matte coating to avoid light radiation, inner liner mirror stainless steel, partitions can be adjusted at will; 5 flow air supply and improved convection circulation form to ensure the fluidity and temperature uniformity of air at each level; Door design: The compound door can be opened for observation when observing the culture products in the inner cavity, and can be closed when it is not required for observation; 7Adopt internationally renowned brand compressors and circulating air ducts, fluorine-free refrigerant, leading environmental protection, high efficiency, energy saving; 8 integrated Refrigeration system, multi-layer protection, safe operation, effective self-check, using non-conventional automatic frost without energy consumption, to avoid the impact on temperature and continuous long-term use of equipment; 9 using air conditioning device to ensure air quality;
Shanghai Haozhuang Experimental Instrument Co., Ltd. specializes in producing constant temperature shaker, low temperature water tank, water bath constant temperature oscillator, gas bath constant temperature oscillator, shaker, incubator and other related instruments. At the same time, in order to better serve users, the company is also equipped Of application engineers are always available to answer your questions in use. Free home delivery nationwide. The price is reasonable, the quality is three guarantees, life-long maintenance, to provide customers with fast, professional and high-quality systematic services. The factory has strong technical force, and its technical indicators are leading in China. Product selection is exquisite, exquisite workmanship, excellent quality and reasonable price. Since its establishment, the company has paid great attention to product development, upgrade and update, and constantly launched intelligent instruments with good operability and stability are the principles that Haozhuang Instruments has always followed . Welcome your inquiry and purchase!
Hardness testers use a differential-depth method. The test consists of placing an on the material, then applying a minor load, which establishes the zero position. After the minor load, a major load is applied and then removed while the minor load is maintained.
Hardness Tester Calibration Calibrating Most Types and Models. Hardness Tester Calibration should be performed on a periodic basis to verify that the accuracy of the instrument is within the manufacturer`s stated tolerances for the grade or model. As a hardness tester repeatedly measures the relative resistance of materials to denting, bending, or scratching, it can become misaligned. hardness tester is a compact device and occupies minimal bench space. A hardness tester commonly constitutes a tester assembly joined to a frame assembly. The tester assembly is made up of a tester enclosure that supports a motor that drives to connect with a load unit and an indentor.

Hardness Tester
Hardness Tester,Portable Hardness Tester Testing Instrument,Leeb Hardness Tester Laihua Testing Instrument,Brinell Hardness Tester Laihua Testing Instrument
Xi'an Lonn M&E Equipment Co., Ltd. , https://www.smartmeasurer.com